Georges Braque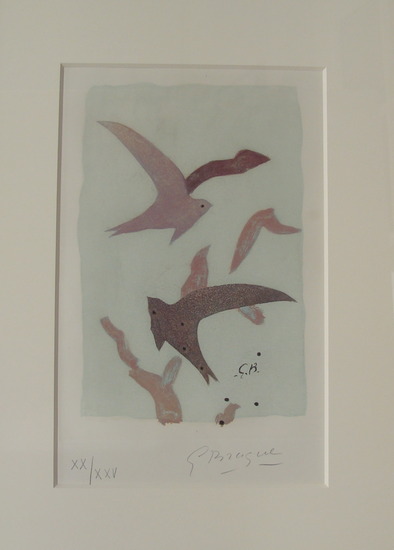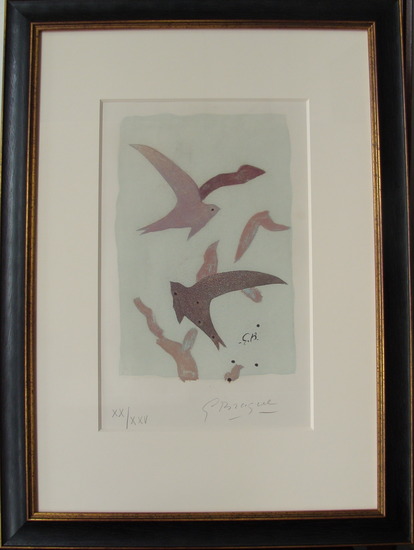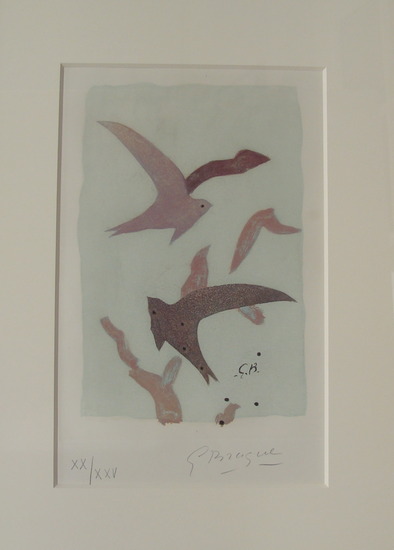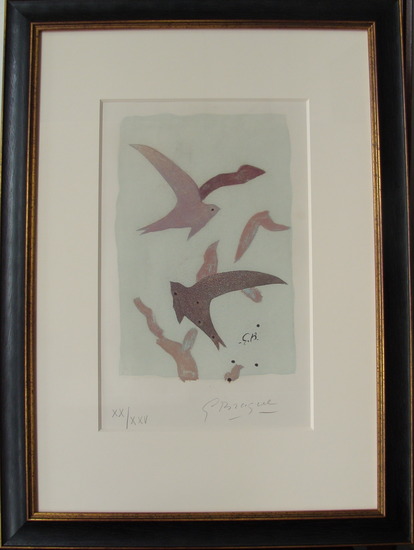 Georges Braque
Paroles Peintes
Color etching and aquatint, 1962
Edition of 258
Signed in pencil lower right
13 1/2 x 9 5/8 inches
From Paroles Peintes suite
Printed at the studio of Georges Visat, Paris
Published by O. Lazar-Vernet, Paris
Reference: Bouvet 183
Condition: excellent
The regular edition consists of 50 signed prints (numbered 1 through 50). There were another 28 signed hors commerce proofs, 5 printer's proofs, and 150 unsigned impressions. There were also 25 signed prints numbered I through XXV; these were given to the artists who contributed to the Paroles Peintes suite.
This impression is numbered XX/XXV. Unfortunately I do not know which of the artists once owned this particular impression.
Birds in flight have long been a symbol of freedom. An even longer tradition associates birds with the heavens. Birds have played a major role in some creation myths (such as those of the ancient Egyptians) while, in other societies, birds represent messengers of the gods.
There is no question that the motif of birds--particularly birds in flight--is widely prevalent in the post-war paintings and prints of Braque. But art historians are not in agreement about just what this motif signified for the artist. Was he expressing the joy of spontaneous artistic creation? Happiness about the end of the war? Feelings of sublime peace of mind?
To me, this particular work conveys feelings of cheerfulness with its soft lyrical forms and mauve and pale, almost sky blue colors. It is by no means exuberant. The tone is far more subtle. There is joy here, but it is a restrained joyfulness that is more than a bit world-weary but also remarkably wise.
I think this statement by Braque is revealing: "Objects don't exist for me except in so far as a rapport exists between them or between them and myself. When one attains this harmony, one reaches a sort of intellectual non-existence — what I can only describe as a sense of peace, which makes everything possible and right. Life then becomes a perpetual revelation. That is true poetry."
[Quote from John Richardson, "The Ateliers of Braque", The Burlington Magazine Vol. 97, No. 627, June 1955]