Jack Beal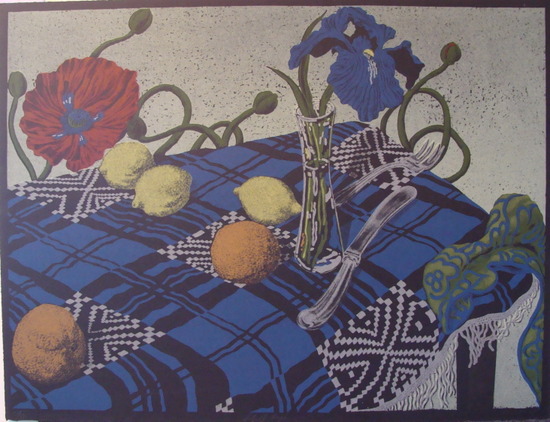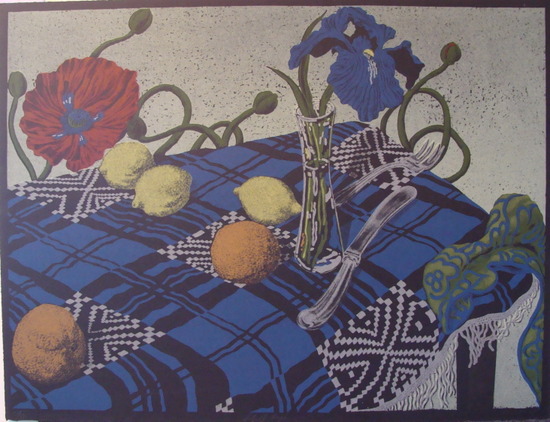 Jack Beal
Still Life
Color lithograph on black paper, 1978
Edition of 75
Signed in pencil lower right
Published by Brooke Alexander Inc.
18 x 24 1/8 inches
Condition: excellent
The following biographical statement was provided by courtesy of Stewart & Stewart, printer and publisher of fine prints since 1980:
Jack Beal was born in Richmond, Virginia in 1931. He studied at the Norfolk Division of the College of William and Mary and the School of the Art Institute of Chicago. A grant from the National Endowment for the Arts in 1972 underscores his long list of accomplishments. The Art Institute of Boston awarded Beal an honorary Doctorate of Fine Arts in 1992 and in 1994 Hollins College in Virginia awarded him a Doctorate of Humane Letters. The American realist painter has lectured at over 100 schools, universities and museums, including University of Indiana, Purdue University, University of Wisconsin and Cooper Union. Beal lives and works in New York City and Oneonta, New York.
Beal is best known for his paintings, murals and fine draftsmanship. In the early 1960's, he courageously renounced abstract expressionism for realism. He is among the diverse painters of "New Realism" who arose during the late 1960's. He is more closely aligned to Philip Pearlstein and Alfred Leslie than to the Photo-Realists. Particularly noteworthy are his compositions of the figure in interior environments filled with complex patterned fabrics, diagonal thrust and a point of view slightly below eye level. Publications that document his evolution as an artist include Eric Shanes' monograph Jack Beal, 1993; John Arthur's Realists at Work, 1983; and Mark Strand's Art of the Real, 1983.
More than fifteen solo exhibitions at Frumkin/Adams Gallery in New York and Chicago, as well as numerous international group exhibitions, have celebrated Beal's work since 1965. Four murals on The History of American Labor are among his national commissions. It took nearly three years to paint them. When they were complete in 1977, they were installed in the Department of Labor Building in Washington, D.C. In New York, Beal is represented in the prestigious collections of the Metropolitan Museum of Art, Whitney Museum, Museum of Modern Art, and the Neuberger Museum. Other museums that include Beal in their collections are the Art Institute of Chicago; Museum of Modern Art, San Francisco; National Gallery of Art, Washington, D.C.; Philadelphia Museum of Art; and Walker Art Center, Minneapolis. Brunswick Corporation, Ciba-Geigy Corporation, and Philip Morris Collection are among his patrons.