Rudolf Bauer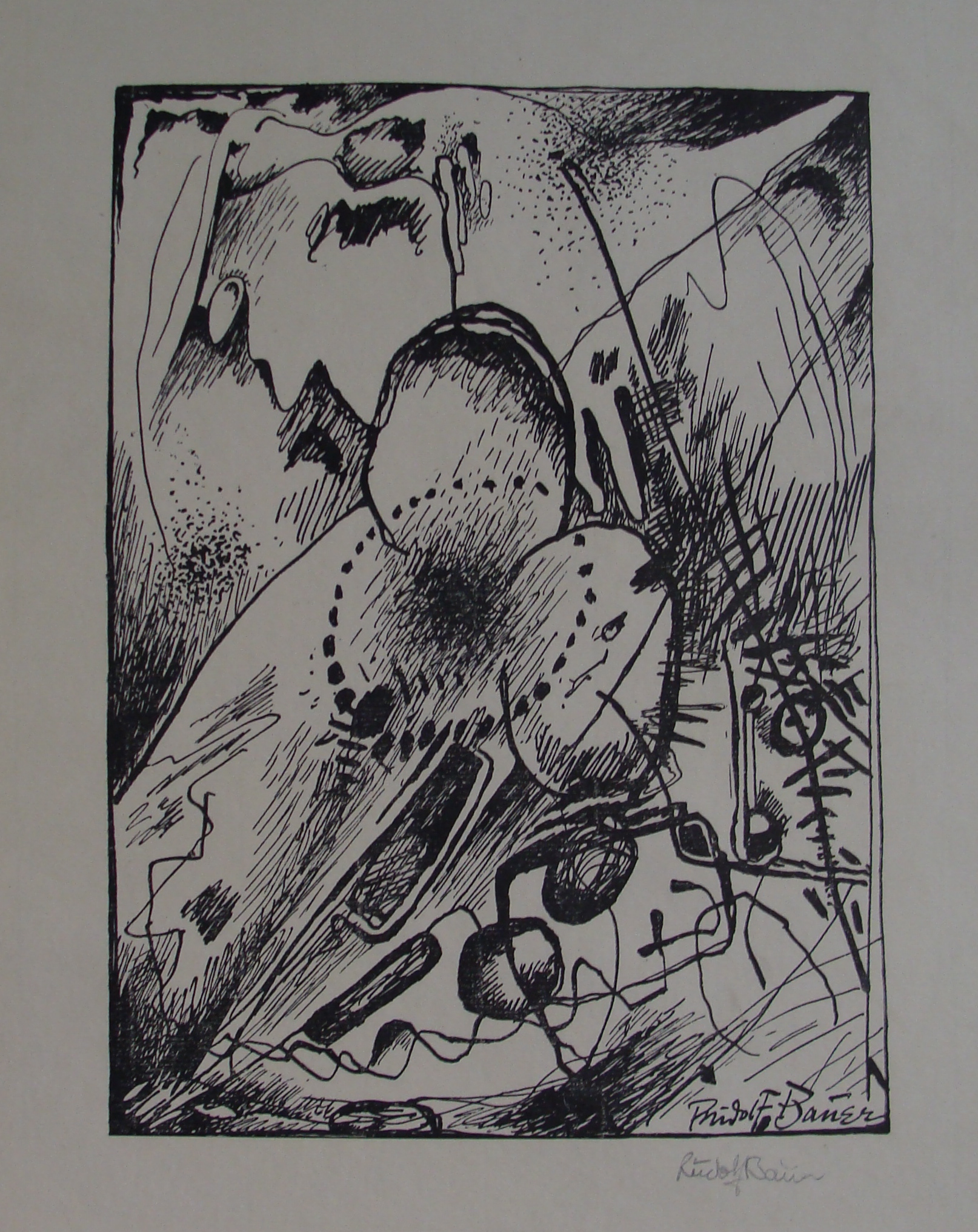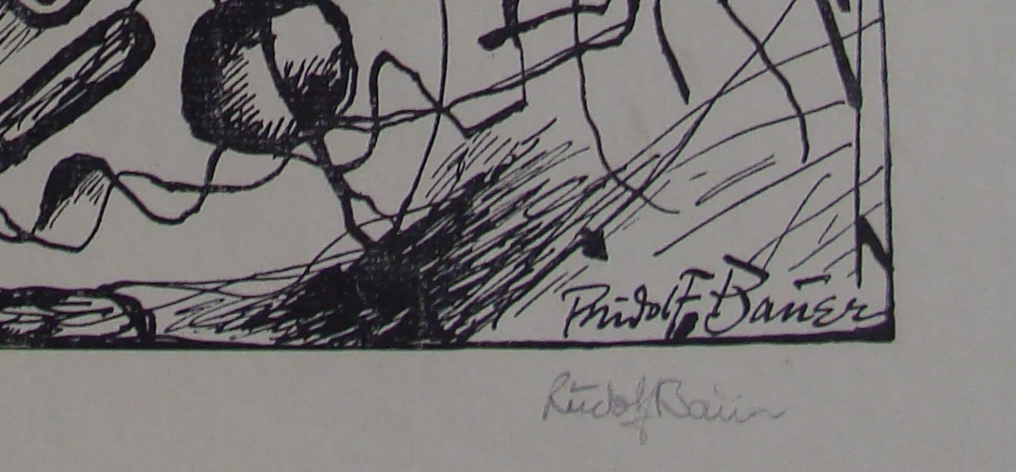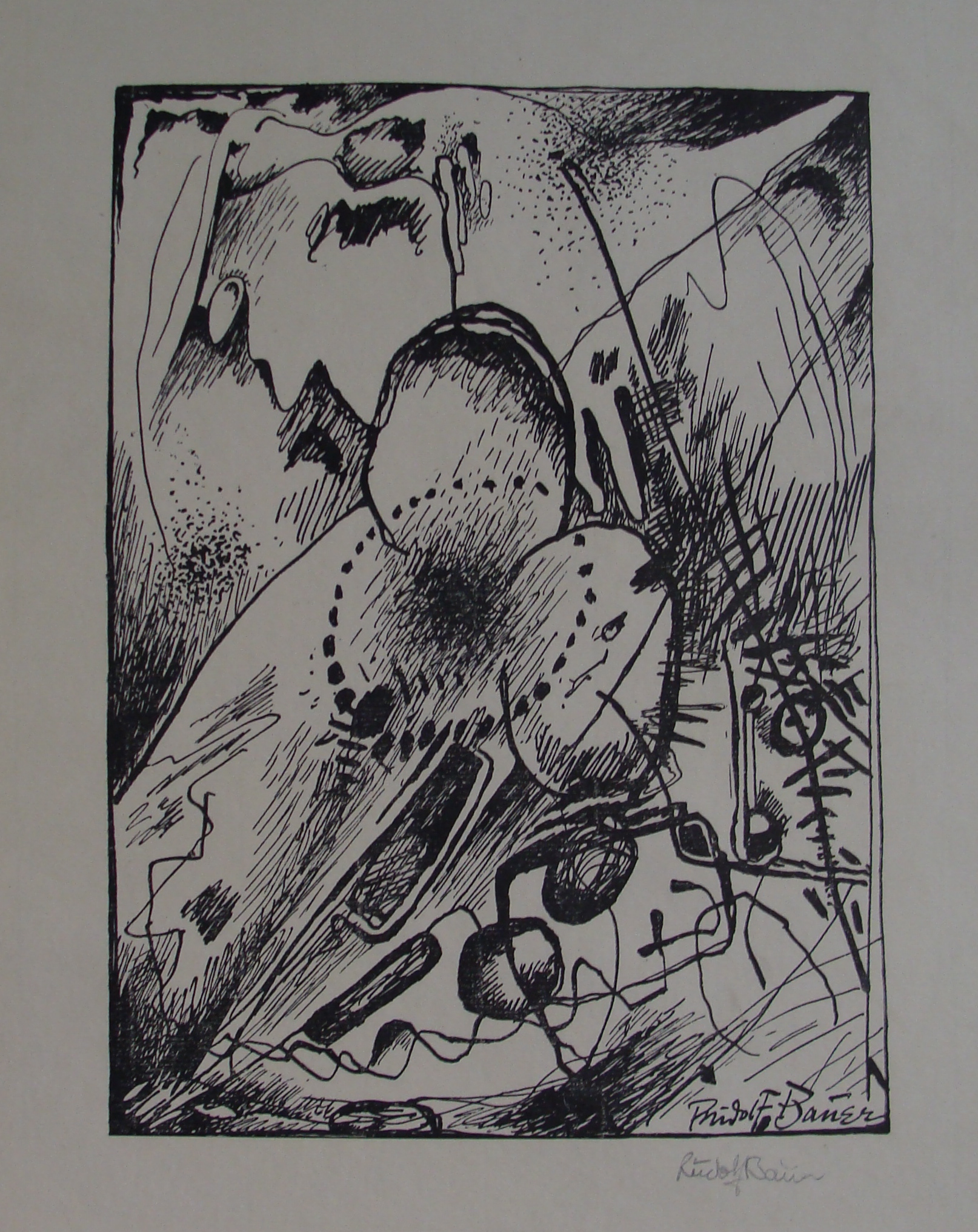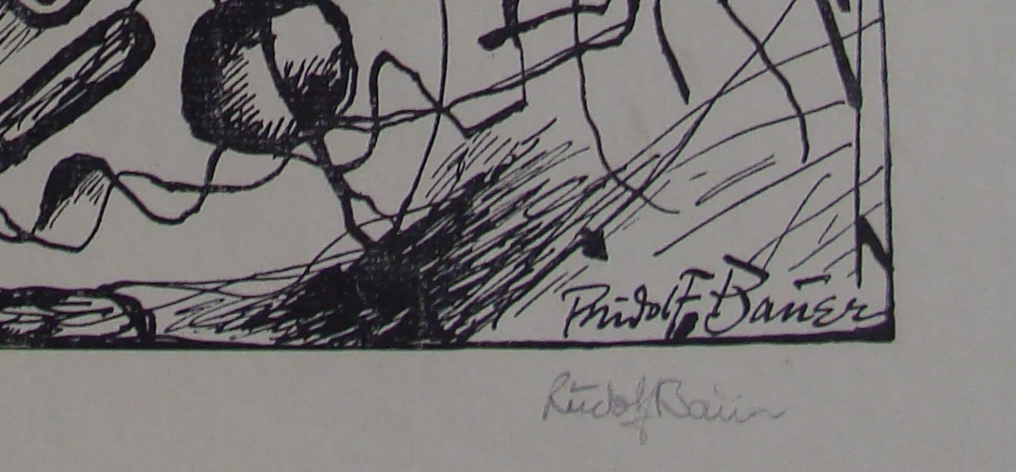 Rudolf Bauer
Abstract Composition
Lithograph, circa 1918
Small edition
Signed in pencil lower right
10 7/8 x 8 inches
Excellent condition
The following biographical statement was provided by courtesy of Jasmine Moorhead:
Rudolf Bauer (1889-1953) was one of the originators of non-objective painting. This particular brand of abstraction emphasized total absence of forms relating to the objective world. Bauer was born in Lindenwald, Germany (now Poland) and took up art-making from an early age. He began supporting himself as a cartoonist and caricaturist, publishing works in the popular magazines of the day, which he would do off and on until the mid-1920s.
Around 1915 he became involved in Der Sturm, a magazine and gallery run by Herwarth Walden. Walden promoted Bauer's work alongside the work of Vasily Kandinsky, Franz Marc, and Marc Chagall, among others.
He also met Hilla Rebay, a baroness and fellow artist, through Der Sturm. Their lifelong relationship—at first romantic and then platonic and business-oriented—would be the defining partnership of their lives. In 1927 Rebay moved to New York, and a year later made the acquaintance of copper magnate Solomon R. Guggenheim. Rebay exposed Guggenheim to non-objective art. He decided to start a non-objective collection, which came to include over 200 works by Bauer alone.
Bauer also became Guggenheim's main contact in Europe for purchasing works by other artists, such as Kandinsky, Chagall, Marc, Léger, and others. Bauer simultaneously in Berlin had founded a museum, Das Geistreich, or the Realm of the Spirit, to house work by himself and other artists. However, as the political situation in Germany changed, the financial viability of this gallery lessened, and Bauer became increasingly dependent on Guggenheim.
In 1936 Bauer traveled to the United States to attend the first museum exhibition of Guggenheim's collection. He also became convinced that Guggenheim was the right person to provide the one thing he had always wanted for his art: a permanent home where his body of work could be seen together. In 1938 Bauer, who had chosen to stay in Germany despite the deteriorating political situation, was arrested by the Gestapo and thrown into a Nazi prison. Eventually, through the financial and political influence of Guggenheim and Rebay, Bauer was released. He emigrated to the United States in 1939, just following the opening of the first permanent home of Guggenheim's collection: The Museum of Non-Objective Painting, on 54th Street in New York.
At the end of that year, wanting to clear up his debts with Guggenheim, Bauer signed a contract for which he traded over 100 works he had not yet been paid for as well as all his future "output" for a house in Deal, New Jersey; a Duesenberg auto body; and a monthly stipend of $1500. This contract, which was not what he was told he was agreeing to, eventually broke Bauer as he saw that he furthermore would have no control in the running of the museum that housed all his work. He never painted again, and increasingly isolated himself from Rebay and Guggenheim. After Guggenheim died in 1949, Rebay was asked to step down as curator, and the new trustees abandoned Guggenheim's non-objective goals. When the now-iconic Solomon R. Guggenheim Museum opened in 1959, Bauer's work, along with other non-objective artists, was banished to the basement.
Recently though Bauer's work and reputation has been resuscitated, beginning with solo shows in Europe in the 1970s and 1980s, and finally it is being shown again on the Guggenheim walls, in 2005 in the Art of Tomorrow exhibition and in 2007 in the Founding Collection. In 2007 a major retrospective took place at Weinstein Gallery, San Francisco.